Online Graduate and Doctoral Programs
Where Flexible Education Creates Opportunities
Download a FREE Program Brochure
Complete the form below to receive a free program brochure that provides more information about our programs. A St. John's Admissions Advisor will contact you soon to share additional details and answer your questions.
Note: All fields required.
Top 100Education Graduate Schools1
No. 172National Universities2
ALA-AccreditedMaster's Program
An Education That Leads to Where You Want to Go
An online degree from St. John's University offers academic excellence that prepares you to achieve your goals. Study at an institution dedicated to the Vincentian mission of faith and service while you benefit from our quality instruction, alumni network, and career resources that propel your professional success.
St. John's offers a M.S. in Library and Information Science and Ph.D. in Literacy programs in convenient online formats. Each program lets you focus on your goals by personalizing your education with specializations matching your abilities and aspirations.
With our online programs, you'll benefit from the cultural, intellectual, and commercial opportunities extending from our New York City base and global campuses. Plus, leverage an alumni network with more than 170,000 graduates ready to share their success stories so that you can begin developing yours.
St. John's University brings you the convenience of online learning bolstered by a rich heritage of academic excellence that began in 1870. Gain a personal and professional edge by engaging in an outstanding, practical online education that focuses on your future success.
Committed to academic excellence and the pursuit of wisdom for more than 150 years
Accredited by the Middle States Commission on Higher Education
The Princeton Review included St. John's on the 2022 Best Colleges list (Northeastern category)3
Instructors are certified in online learning and excel in educating adult learners
Online Programs for Your Goals
Discover the online graduate or doctoral program that will support your professional and personal success.
36 credit hours. 2 years. 4 specializations.
Gain advanced knowledge for information specialist roles in numerous industries in an online program with accreditation from the American Library Association. St. John's is one of seven East Coast institutions to offer a 100% online program with ALA accreditation.
42 credit. 3 to 4 years. 2 areas of specializations
Explore the latest research and develop specialized knowledge for advancing the practice of literacy education. You'll prepare to create innovative solutions for at-risk learners at the school, district, state, and federal levels.
Academic Excellence Without Bounds
Access a flexible learning experience, gain career-building knowledge, and benefit from a highly ranked graduate education at a leading Catholic university. With the online programs from St. John's University, you'll experience an education that broadens your mind and provides inspiration and support for career achievement.
Request Info
Online Flexibility Backed by Solid Support
The online programs from St. John's combine the high-quality education found on our campus with the flexibility to study where you choose. Learn from our widely respected faculty in classes you can access through your computer, tablet, or smartphone. St. John's also provides support through an extensive range of student services, including online registration, advising, library resources, campus ministry, and career services.
Prepare to Succeed in a Global Society
St. John's is one of the nation's most diverse higher education institutions. As an online student, you'll gain exposure to a rich tapestry of cultures while developing the expertise to make a positive impact on the world. Plus, learn from instructors with the qualifications needed to teach online classes that balance rigor, support, and flexibility.
Known for quality, St. John's offers one of seven online programs with American Library Association (ALA) accreditation. Additionally, our School of Education is a member of the Teacher Education Accreditation Council (TEAC), the American Association of Colleges of Teacher Education (AACTE), and the University Council for Educational Administration (UCEA).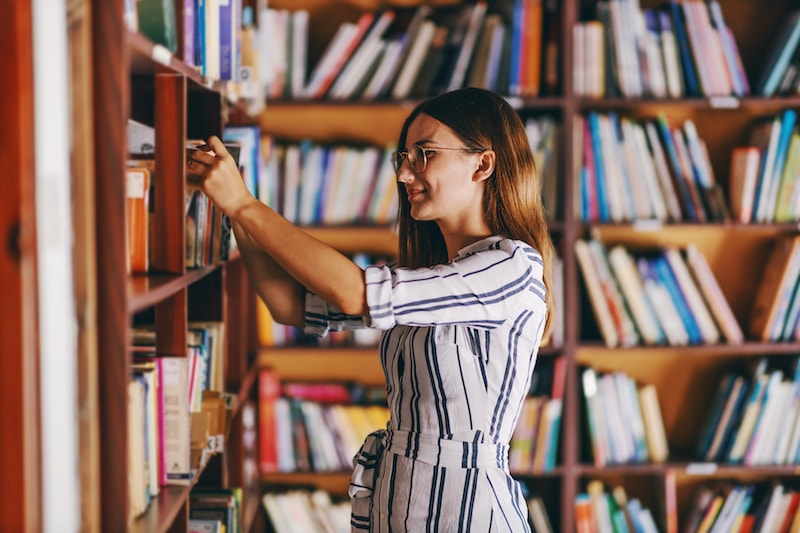 Access New Opportunities for Your Career
Education and library employment is accelerating, with employers projected to add more than 920,000 jobs from 2020 to 2030.4 With the online programs from St. John's, you'll learn from practicing professionals who instill the competencies needed to thrive in library science or literacy positions in higher education and beyond. You can also select career-aligned specializations to achieve your goals in archival studies, youth services, bilingual education, and other fields.
10 Impactful Careers for St. John's Graduates
Curriculum/staff developer
Educational foundation administrator
Librarian
Library director
Literacy supervisor
Literacy leader/consultant
Professor of literacy
Reading specialist and diagnostician
School literacy specialist/coach
Senior research analyst
Sources:
St. John's University. "Business and Education Graduate Programs Ranked in U.S. News & World Report's Top 100." Retrieved June 3, 2022, from https://www.stjohns.edu/.
U.S. News & World Report. St. John's University (NY) Rankings. Retrieved June 3, 2022, from https://www.usnews.com/.
The Princeton Review. 2022 Best Colleges: Northeastern. Retrieved June 3, 2022, from https://www.princetonreview.com/.
U.S. Bureau of Labor Statistics. Education, Training, and Library Occupations. Retrieved June 3, 2022, from https://www.bls.gov/.